Barrett-Jackson Scottsdale 2019 offers the world's coolest car auction when 1800 cars are sold without any minimum price, "no reserve". This provides opportunities for the buyers to make a bargain, while the sellers get nervous when their cars are offered. The pace is high when 25 cars per hour will get new owners. Barrett-Jackson not only offers auction calls for fine classic collectibles, but it is also a trade fair where exhibitors show new performance cars and the best car accessories. All cars that are called out are displayed indoors in large halls and you can easy spend a few hours to look at your favorite cars. My favorites are always Shelby's and Ford's performance cars like Boss, GT and Cobra Jet.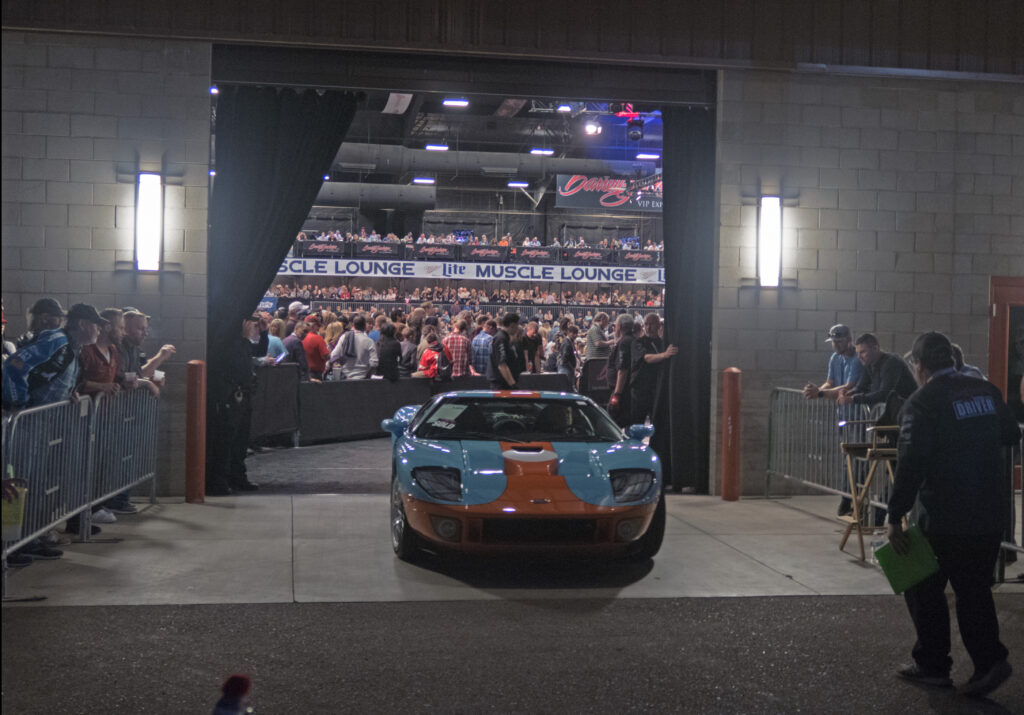 "The curtain goes up when the car
 is sold to a new expectant owner who
 hopefully made his life's purchase "


Prices reached record heights and this 1969 Ford Boss 429 was no exception.
Ford's highest bid:
Ford GT Heritage Edition 2019 VIN#001 V6 Twin Turbo 7 speed auto 2,500,000USD
Shelby GT500 2020 +700hp VIN#001, 1,100,000USD.
Ford GT 2006 Heritage Edition 5,4L V8 550hp, 4pcs 450,000-533,500USD.
Ford Mustang Fasback 1967 "Eleanor" from Gone in 60 seconds 385,000USD
Ford GT 2005 5,4L 6 speed manual 330,000USD
Ford GT 2006 Limited Edition  330,000USD
Ford Mustang Boss 429 1969 3pcs 231,000-286,000USD
Shelby GT500 1967 428PI 355hp C6 auto 275,000USD
Ford Mustang 1967 Kindig-It Design Custom 275,000USD
Shelby GT500KR 1968 428CJ 4 speed manual 231,000USD
Ford Mustang Cobra Jet 2018 5,2L V8 "Not street legal" 200,000USD
Ford Mustang Hardtop 1965 VIN#00002 170ci 6-cylinder 3 speed manual 192,500USD
Shelby Gt350-H 1966 289ci 306hp C4 auto 154,000USD
Shelby GT350 1966 289ci 306hp 4 speed manual 143,000USD
Shelby GT500 Convertible 1970 428cj C6 auto 129,800USD
Shelby GT350-H 289ci 5 speed auto 110,000USD
Scottsdale on the outskirts of Phoenix, Arizona, offers 20`C in January. The wild west feeling is present in the landscape with mighty mountains, high cactus and low vegetation. Old Town Scottsdale is built as a Wild West town as in the old days with shops and good eateries or why not have a whiskey in the saloon. Barrett-Jackson Scottsdale is well worth a visit and during prime time on Saturday, when the most expensive cars will be sold, everything is flowing through the security check and entry. Free shuttle buses from the car park to the entrance. Adult fees 80USD, 65USD for 55+. If you like to bid on the cars, it costs extra and you need to have a deposit and bank guarantees.  Bilar på Barrett-Jackson